August 20th - St. Stephen's Day Dinner
August 20, 2022 06:00 PM until August 20, 2022 10:30 PM
Join us this August 20th on St. Stephen's Day to celebrate the birthday of Hungary. Savour sublime flavours with Executive Chef, Árpád Győrffy's exclusive 5-course dinner menu that includes dishes such as Scallop Carpaccio, Porcini Stuffed Savoy Cabbage or Saddle of Lamb. Appetizers and main courses are gluten-free and highlights exceptional ingredients sourced from the finest suppliers. A selection of fine wines that are ideal accompaniment to the menu has been put together by Head Sommelier Gábor Becker. Crown your dinner with the tantalizing dessert of our talented pastry team.
Feast over a special dinner with your loved ones while live entertainment plays into the evening.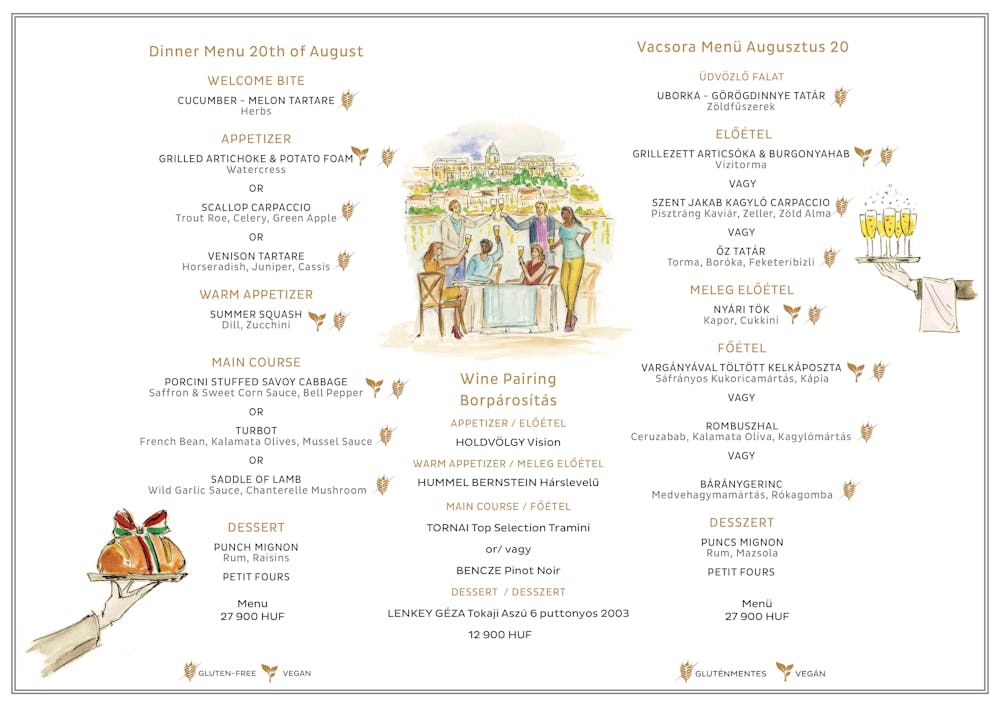 𝐷𝑖𝑛𝑛𝑒𝑟 𝑀𝑒𝑛𝑢: 27 900 𝐻𝑈𝐹
𝑊𝑖𝑛𝑒 𝑃𝑎𝑖𝑟𝑖𝑛𝑔: 12 900 𝐻𝑈𝐹
Reservations required: reservations@kollazs.hu or +36 1 268 5408
All prices are in Hungarian Forints and include VAT. 14 % service charge will be added.